Hello, Friends!
March 20 will be the anniversary of my loss of Miles, "Mrs.Goodcat", my Cat-wife. But there is enough sadness here without me adding to it unless I also share the joy of my nutty, goofy, brilliant, sometimes moody best friend Iggy.
Who knows where the time goes?
Six years ago into my shattered life came this little guy, who hopped out of the kitten basket, chose me, ran up my leg, over my shoulder and into my shirt pocket.
Today was warm enough so we could start taking our patrols together..he is leash trained, remember? it was finally sunny after a bitter Winter, and we visited some of his favourite places. "Grass-Eating Place#1" by the big oak, the warmth of its ancient bole usually promising a sickening cleansing snack.
Then, a patrol to inspect the big rock, where he found a small garter snake years ago-he NEVER forgets. (It was just a baby..hadn't even started Law School.) He THOUGHT about climbing a tree, but decided it was a bit early for that.
He is now just under sixteen pounds.
I named a product of mine after him; It is used in gem polishing, and most people like the product and think his picture is hilarious..he is SO expressive!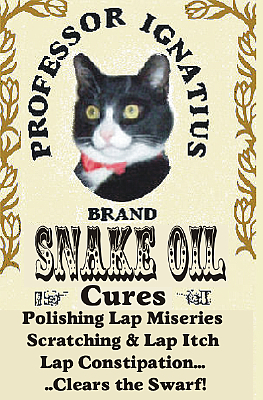 My age is starting to get up there, so I think I have timed things quite well, for Iggy and I to be truly "Friends For Life".