Profile
leejaye doesn't have a personal statement currently.
leejaye

Female
No Information
Joined: 13-May 11
Last Seen: 4th May 2019 - 06:01 PM
Local Time: Jan 23 2021, 11:32 PM
329 posts (0 per day)

No Information

No Information
No Information

No Information

Send Message

Send an Email
* Profile views updated each hour

leejaye

Pet Lovers
My Content
15 May 2012
My dearest Mischief Princess, Mother's Day marked one year since our parting, I wrote this for you Angel Girl:
And so we entrusted our souls to each other, cheerfully swapping a piece, knowing we were joined forever.This exchange of ours brought a happiness not commonly known, but given to each other with no thought of giving, of debts owed, only the joy of giving and sharing - the multitude of gifts bestowed magnified by the act itself. This depth of bond, of love - as much as it deepened us, it also magnified infinitely, intensley, hugely, the pain of your physical leaving. Such a huge hole my love. I can never fill that Mischief shaped space you left here with me, I still miss you so much - but I am so very grateful for our years, and if I cry for you sometimes, believe me my bella, those tears are diamonds. I think of you every day my love, my little one - Mischief, my beautiful soul, I know our love is forever, but oh how I miss you.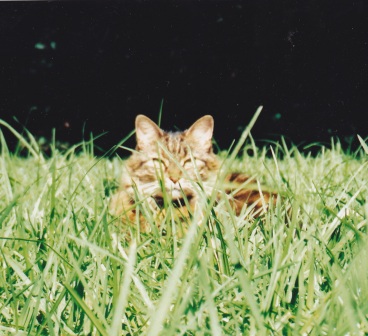 26 Jun 2011
Well I didn't think i would be writing a post like this for months, but on Saturday morning we welcomed a little ginger and white boy cat with big floppy feet into our family and lives. He was the last kitten in the pet shop again and i foolishly agreed to have a cuddle - he started purring his head off, threw his head back on my shoulder, looked up at me and went to sleep purring. I gave him back and walked away quite confused about what i was feeling and what i should do, my mum settled it by buying him for me and while I have been having intermittent guilt episodes (am i being fair to mischief, am i being fair to him? I go round in circles. I had also intended to get a rescue cat when i thought i was ready, mum argued that pet shop animals need rescuing too), I'm so glad she did buy him - he is so quickly wriggling his kitten way into my heart!
I've named him Purszival because he purrs whenever you pick him up, so loud you can hear him across the room! He is nothing like my Mischief girl, which is good, because I wasn't looking to replace her -I never could anyway, but i was lonely without a cat child, I think my Mischief would know this.
Purszi and I are still getting to know each other, but he already has his own very definite personality, bit of a rough and tumble crazy boy when he's awake but so cute when he's asleep (he does this thing where he crosses his front paws over his face in his sleep!). Oddly he has done a few things already that were peculiar to Mischief - yesterday he marched into the bedroom, ignored his water dish (and he knew it was there), got on the bedside table and drank my glass of water, just like he knew all about it - this was one of Mischief's favourite things, even if i got a new glass for myself she would drink the new one, seems she told Purszi cos he did that too. He also likes standing on my shoulder while I walk around which was her favourite perch when she was little. I hope she is here teaching him, I will never forget her and never stop loving her or missing her but I realised something this morning - I think that I can love both of them without diminishing my love for either, I'm just hanging onto that thought.
Wish us and the furniture luck (he really is a crazy boy, tearing along the back of the lounge)! I've attached some pictures of him in his cute sleeping pose!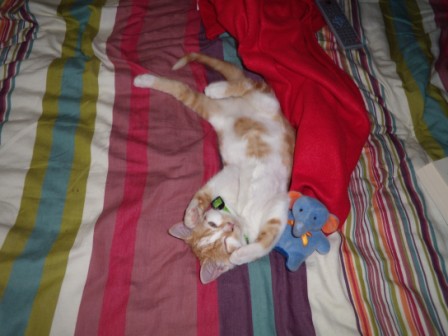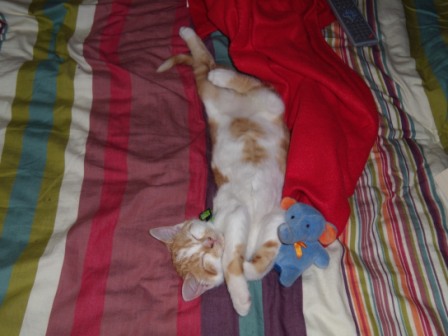 14 May 2011
I lost my best friend of 17 years 2 days ago, she was the most beautiful courageous soul i have ever met - only a tiny little cat but with the biggest heart. I got her when i was at uni and she has been the biggest part of my life ever since, she shared everything with me, she was there in a way noone else in my life has ever been, just giving me her love, we understood each instinctively from the day we met when she was the last tiniest kitten in the pet shop. 12 months ago my Mischief cat was diagnosed with feline breast cancer, a massive shock since she had always been healthy and was desexed and should have had almost no chance of of developing this disease. Fortunately i work with my partner and we were able to arrange our work so i was able to spend most of that time caring for her, we went to the vet about 2 months ago and they were amazed at how well she was doing, especially for her age, the cancer seemed stabilised, her coat was as beautiful, shiny and soft as it had ever been. We came home and continued in all the little routines of our shared life, getting up together to get breakfast, back into bed for a cuddle, time for a drink, sitting in her favourite sunny spots in the garden - we filled the day together as often as we could. Then last week she went off her food, grew quite lethargic and wanted to drink heaps, her breathing was becoming laboured (the cancer had spread to her right lung some time back but seemed to have stabilised at some point with the meds so that she usually breathed normally) and she just wanted cuddles so we went to the vet and she told us Missy had damaged kidneys from the cancer meds, she had fluid on her lungs because her kidneys weren't processing properly, so she gave Mischief a diuretic shot to shift the fluid and sent us home with a scary looking fluids bag and line and needles for subcutaneous fluids. I spent the week giving 24 hour care, sub q fluids, meds, syringing food, trying to keep the balance between her lungs and her kidneys, she tried so hard for me, she was such a little fighter, but on Friday she could hardly breathe or walk and i did the hardest thing i have ever had to do, I held her little head and her little paw while the vets gave her the injection and just told her how much i loved her and all that she was in my life, the vet said i didn't have to stay but i couldn't let her leave without me there, i didn't want her to be scared or think that i'd left her when she really needed me, she did so much for me it was the very least i could do for her, they let me stay with her afterwards but i only stayed for about 10 minutes holding and stroking her small beautiful furry little body, otherwise i would have stayed forever. I said goodbye to my best girl, my love , my little one, and my brother and i just drove for hours he let me talk when i needed, cry when i needed, be silent when i needed, i thought i might hold up, but i got home and went to sit in her spot near the heater and i lost it, i didn't think it would feel like someone ripped a hole in me, and i know i'm crying for myself, cos i had to do this for her but damn it hurt, hurts, it actually hurts in my chest and my gut. I woke up at 3am looking for her and remembered and just started sobbing convulsively and i asked her to please stay with me alittle longer til i could cope and her dad was home (my partner who has known and loved mischief and me for 10 years had to go overseas for work just before we went to the vet that long week ago). I'ts only 2 days later and i'm still crying at unpredictable times but yesterday afternoon i was looking at my photos of her, all pictures of her in her favourite spots doing her favourite things, and i was thanking her for that and thinking of all the good stuff and i got this feeling of comfort like she was there with me, it's still with me, i slept with her blanket and little cat toy and collar again last night the bed didn't feel quite as empty as it did. I've been crying while i write this and i still don't know what to do with the day, or tomorrow or the next day without her here, quite how to fill the gigantic hole a tiny cat has left.