Profile
JuliaSC doesn't have a personal statement currently.
JuliaSC

Gender Not Set
No Information
Joined: 23-October 13
Last Seen: 8th December 2013 - 08:51 PM
Local Time: Jan 23 2020, 04:09 AM
35 posts (0 per day)

No Information

No Information
No Information

No Information

Send Message

Send an Email
* Profile views updated each hour

My Content
18 Nov 2013
My cat was missing since October 19th, today is November 18th. My neighbor said she saw him on a highway. I went there, was driving back and forth, it's hard to say if it's my baby Miles, because the picture is awful. I couldn't stop there, because it's 3 lane busy highway, I could only slow down to 30mph and people were getting angry. My neighbor said it looked very much like him when she saw it earlier, but she was driving by on a high speed as well. The highway is very close to our house, there is like woods and then the highway. I still can't understand why would he go there, cats supposed to stay away from busy roads, I thought it's their instinct. My husband is saying we still don't know if it's him. I don't know if I just should accept that he is dead, or to keep my hopes up that he is fine and lives his life. It's so hard. I can't wait to move now. I just can't stand being here without him, being on the porch and not to see him hunting for birds, going to feed my other cat and see only 1 bowl on the floor, I can't stand to look at his toys laying there untouched, I can't stand not to be able to cuddle with him, not to hear him making those funny noises when he sleeps. I can not accept he is gone! We just have adopted him 2 years ago! 2 short years! That's all we had? I still find his fur in the house, his little tiny white fur... I have bunch of it in my car, because we were training him and his brother to be able to have a long car trip. We took them for a ride around the block, they were freaking out. I was hoping they get used to the car before we move across the country. So Miles was all over my car and have some of his white fur on the seats. It made me cry.
And also my husband said if Miles is alive he is somewhere out there having fun that's why he is not coming home just yet. And if it was Miles there on the road, then he is in a better place and will wait for us when we are done with our Earth's life and join him.
I just can't find the strength. I'm feeling so empty and hopeless...
Thank you, guys, for listening.
Attached image(s)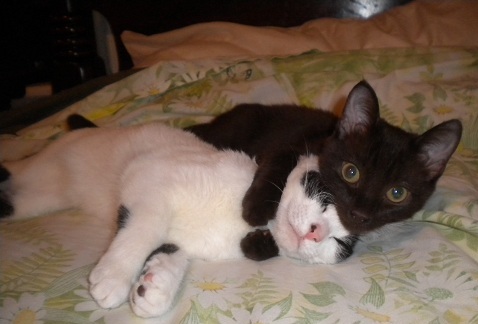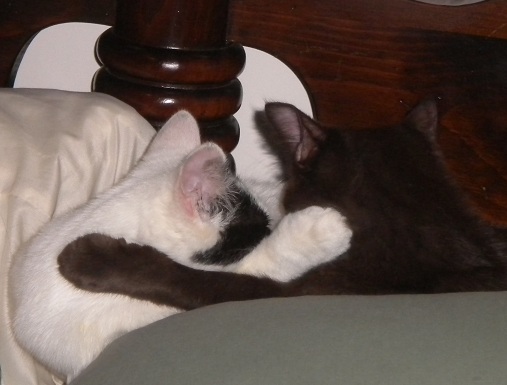 24 Oct 2013
Hello all!
I found this forum though google search when I was looking for tips and support to deal with missing cat.
My cat has been missing 6 days. Saturday I let him and his brother out. And my favorite and very special baby cat never came back. He is my number one! His personality is so calm and friendly, he does things I've never seen from other cats. You can just pick him up and he will lay in your arms until you put him back. My husband tried to play rough with him and this cat would never fight back, because he is just such a great laid-back cat! He is the best!
We have hanged flyers, added a post on craiglist, called microchip company, then like 7 different shelters in our area... No one had him.
I cry every day, even though I understand stress won't do me any good.
Reading some of your successful stories has helped me to get my hope back. I see that some cats came be missing weeks, months and even years and then make it back. It sure gives me the hope that my baby will be back too.
This is a horrible feeling. When my 13 years old cat died I thought I'd never adopt another one because part of me died with that cat. When I adopted Miles (well, my husband did actually, on Christmas, as a present for me to keep my company while he is gone for deployment). This cat made me smile, made other people laugh because of the things he does. He helped us adopt another cat (when Miles was little and we brought him to vet, we saw a kitten in a cage, Miles started playing with that kitty, so we had to adopt him). Since then they are the best friends. I also have 25 years old cat from my husband's grandma who passed away and we adopted her cat. Miles gets along with everyone, he is just amazing and unique cat. But now he is gone...
Friends
There are no friends to display.