Profile
boatlady13 doesn't have a personal statement currently.
boatlady13

Female
No Information
Joined: 26-December 06
Last Seen: 1st November 2018 - 03:58 PM
Local Time: Jun 5 2020, 11:14 AM
34 posts (0 per day)

No Information

No Information
No Information

No Information

Send Message

Send an Email
* Profile views updated each hour

boatlady13

Pet Lovers
My Content
29 Dec 2006
Miss Ellie's Story
I don't know much about Ellie's past before she came to me in June, 2002. My Auntie Martha came knocking on my mother's door while I was visiting in Arkansas with this little homeless five year old Yorkie. She insisted that one of us take it she couldn't and promised her owner who had to go to a nursing home she would find a good home for the dog. I do know she had two litters of pups and was told not to let her have anymore it would kill her. Auntie M claims she didn't know why just told not to do it. The dog had been kept on the back porch of the nursing home for several weeks, she hadn't been groomed in what looked like months, had feces in her fur that had grown way below floor level. She was shaking like a leaf and scared to death.

Mom quickly got her into the tub for a bath while I ran to Wal-Mart to get everything she needed as all she came with were her AKC Registration papers and a small bag of Iams dog food that she would not EAT. I thought she was a nocturnal eater the first few days I had her as she wouldn't eat all day and then ate very little when she did eat. She was starving, heartbroken for her first owner and so scared.

Mom decided the dog needed to be with me for some reason and I gladly took her. On our trip back home I decided to get a chicken sandwich and go to the Confederate Park in Atoka OK to eat lunch. Ellen was so thin so I thought what the heck I'll see if she will eat this chicken she is starving. So I gave her a piece and she gulped it down, looking up for more. She ate all the chicken in my sandwich leaving me with just the vegetables and bun! Low and behold the problem with her eating was she was brought up on TABLE FOOD! So I started baking her chickens and she gladly ate them up.

WE got home to my house at Bridgeport Lake in Runaway Bay. Miss Ellie was so depressed. So we bought her a green tennis ball from Petco and she started to perk up. I would get her to play with me several times a day and after awhile she got over her loss and became a very happy dog. I started to take her out on the paddleboat where she would anxiously await our arrival at Pelican Island where she could chase the Gray Herons, sea gulls, and other water foul. Last summer we bought a kayak and she would ride on the front barking foolishly at the waves as they would hit the bottom of the boat. She loved to nip at the waves.

She learned to go down to the water's edge to swim, frequently coming up from the water a muddy mess. Hence I decided she couldn't be one of the primpy yorkies she wanted to be a sport yorkie. So we cut her hair back where she could swim without a mess. I named it the Pixie Lake Cut~ She would sit on the back deck in the sun and watch the birds. This is the picture that is my avatar. Many a hawk flew over our two story deck thinking she might be lunch so I always stayed close to make sure she wasn't!

My favorite thing to remember about Miss Ellie were the afternoons we spent out on the water together during the summers. I would either paddle boat us or kayak us depending on the time to our destination across to the south side of the lake. I quit using the motor boat when gas went up to $3.00 a gallon and bought a kayak. We frequently would have picnic lunches under the oaks that line the shores of Lake Bridgeport. Ellie loved to bark and play in the waves acting the fool and getting noseful's of water. No matter to her, she would bite at each wave as it came in.

In the evenings at sunset we would cruise the south shore near the house in my kayak and frequently a beaver would be out in the cove. She would bark at the beaver as he would parallel our boat. I swear that Beaver was eyeballing her for dinner. The beaver would look us both straight in the eyes and slap his tail in the water. I guess we were near his domain and he wanted us out of there. THe more she barked the more the beaver would get agitated and hit his tail against the water, which of course made her bark even more. I always kept hold of her when the beav was around as he was a mean one and I feared his teeth against her small body!

Being a good traveler she went all the way from Texas to Washington State in July of 2002 for my youngest son's wedding. I hadn't had her but a month and we went on this very long journey. I don't think she knew what was going on actually and she stuck with me like glue. Traveling to Yellowstone Ellie found the scents and odors of the seismic activity curious. It was Billy's wedding day. Ellie stayed in the RV with the boys while mark and I stayed in a bed and breakfast. WE decided to go check on the kids. Getting close to the RV Park we saw my oldest son Chris walking the highway much to our surprise. HE said Miss Ellie bailed out of trailer and ran away. Billy the groom was all upset that the dog was going to make him late for his wedding, whining and carrying on. Well I would run too if three 6ft men were after me. Anyway Brandon the best man had her pinned in a briar patch. She wouldn't come out. So I went to the briar patch and called her name. It took about two minutes for her to find her way to me through all the briar but out she came out and jumped into my arms. Hence the groom made it to the wedding in plenty of time. This event really upset Ellie and she had diarrhea all over the RV floor while we were gone to the wedding. Poor thing was traumatized. She only had two accidents her entire life with crapping and one was on my son's wedding day!

I had opened a computer repair business just months before I got Miss Ellie. I hated to leave her so I would take her on every house call I could. You might say she became the company mascot! Many of my senior patrons especially the women would hold her while I worked. She loved the attention. I had one customer who had a 90 acre ranch and a goose for a pet. That darn goose gave poor Miss Ellie a run for her money! Always honking at her but she didn't care she kept exploring while I worked. She loved to go anywhere she could explore freely. One time while I was working at Chico City Hall I took Ellen with me, she was on my lap while I was working on a software issue. A little girl about four years old came up to me and said,"She is the prettiest little dog, with the cutest little black nose. Can I pet her?" Gently the child stroked Miss Ellie and Miss Ellie gave her a sweet lick on the arm while she was doing it. Delighted to make a new friend the little girl's eyes brighten with joy and she exclaimed with glee, "She kissed me!" Miss Ellie loved children, cats, other dogs, she was a lover not a fighter.

Miss Ellie always comforted me in my darkest hours as I found out in Dec. 2002 I had an uncurable autoimmune disease where an antibody attacks and destroys my liver. She comforted me for hours as I dealt with the loss of my good health. Whether I felt sick physically or upset emotionally she was in tune to my beat. Resting her head on my shoulder for hours if necessary to comfort me. A constant shadow, where ever I went she followed. One of my friends said I was her Alpha Female!

In March of 2006 Miss Ellie started coughing. I thought it was allergies until she spit up a large puddle of frothy white phelm. Knowing this was more than just allergies we went to the Vet. He said she had heart disease and placed her on Lasix and Enelepril. Then he added the Canadian wonder drug Pimobendan. This really helped Miss Ellie for a long time slowing her heart rate. He said she could live 3 days, 3 weeks or 3 months he didn't know. What he did know was that eventually her little heart would give out and nothing would work.

During this time Ellie rescued a little kitten from a sure demise. A female stray cat had a litter in our boat. One of the kittens had managed to get into the engine box and mama kitty couldn't get her out. The mother moved all the other kittens out of the boat but the one she couldn't rescue. Well the tiny kitten was meowing for her life and Miss Ellie with her keen ears heard her more than 100 yards away. Ellen barked at my door until I came to it, she wouldn't come in and kept looking at the boat. So I said well, what is it and started to follow her. She led me to the boat and sure enough I heard the little kitten screaming for help. It took me some time to get the engine box off and reach to the kitten. The little kitten was covered with engine oil and wet with the top layer of water. I took the kitten nameing her Hope, to the house where I bathed her in Dawn a few times to get the oil off of her. Miss Ellie watched attentively over Hope for the next few days. Hope was stranded we figure at least four days in that engine box.

Miss Ellie got into something at an RV ranch we were staying at in November 2006. She was so sick puking and again she crapped all over the RV. She came out of it but was really never the same. A few weeks later I noticed her kidneys were not responding to the lasix. Took her back to the vet at which time he told me she was in kidney failure. I think whatever she got into affected her kidneys as well as the lack of perfusion from a poor heart.

Everything including her kidneys quit working on Christmas Eve 2006 and by Dec 26th at 1:30 am she took her last struggling breath of air. She is no longer fighting to breathe like she did for the last days of her life and she is resting peacefully. I loved my little dog and will never forget the joy and love that was returned to me unconditionally by my wonderful Miss Ellie.

You see I am not the only one who feels Miss Ellie's loss; an entire community mourns the loss of my sweet company mascot, best friend and family member Miss Ellie. She brought so much joy and love to those who were around her. Everyone who knew this sweet dog loved her. She will live on forever wrapped in love deep within my heart.
Attached image(s)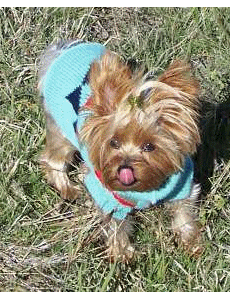 29 Dec 2006
Today I go to pick up my Sweet Miss Ellie's ashes. It's been four days since she went to Rainbow Bridge and I am still so heartbroken about losing my best friend.
My son invited me to his house last night and took me to dinner at my favorite Italian restuarant, mainly to see if he good get me to eat more. I did eat some but then my stomach knotted again, right in the middle of dinner. We started talking about getting a new dog and knotamatic hit.
My son reminded me this morning while giving me many long hugs that my dog was with an old cardiac nurse, and would never have lasted this long if I had not known the symptoms of heart failure. I used to take apical pulses (listen to heart and count beats) with my pedi stethescope to monitor Miss El's heart rate. I checked it several times a day for the last nine months. Adjusted her meds accordingly. Once her kidneys were involved management became a challenge. She would shake life a leaf when I had to give her human doses of lasix to get the fluid off her lungs. She died when her kidneys no longer responded to her medication. She became uremic (full of toxins) and couldn't hold down food or medicine. She held on long enough to see us through Christmas and I believe she was smiling in the picture taken below with my husband and I. She had all her family with her what more could any dog ask for. Mark works out of town and I am alone alot. Ellie was my company, my companion.
Although I want my dogs ashes the act of having to go back to the place where we put her down and get a box of ashes instead of my dog has me crying a river, I miss my sweet little dog so very much.
I have a chronic autoimmune disease and an antibody attacks my liver eventually I will die of liver failure unless I am lucky enough to get a liver that matches and be transplanted. This makes me feel fatiqued most of the time and my little dog always knew when the antibody was attacking me. She could tell I didn't feel well and always comforted me. She was more comfort to me than any of my family. I guess what I am trying to say is this dog, that some say are just dogs, gave me more comfort in my hour of need than anyone. My constant companion who would lay her head on my shoulder and gently lick my cheeks to make me feel better. God knows I will miss her so very much. So you see my friends this dog comforted a chronically ill woman and I needed her as much as she needed me.
My hope is to someday be rejoined in heaven with my dog by a wonderful lake with plenty of kayacks, sailboats, sun and sand.
Attached image(s)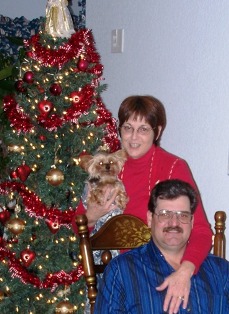 27 Dec 2006
My sweet little Yorkshire Terrier Miss Ellie has been suffering for nine months with heart disease and kidney failure. Her poor little heart just couldn't keep up with the failing kidneys and she died at 1:00 am Dec. 26th. I am so heartbroken that she is gone although I know she was suffering in the last day of her life and is now resting at peace.
However the emptiness in my heart of losing my beloved companion at the holiday is almost more than i can bear. My heart is broken and i miss my loving little dog so very much. I am now alone in my home with no echos of pawprints across my wood floors. I know time heals all wounds but right now this pain and aloneness is unbearable. Hence this post to this board to purge the pain from a heart that is grieving as much as it loved.
I know I have to eat but can't seem to even do that. My stomach is tied in one big knot. Nothing seems to be easing this pain and i didn't go to work today as I can't quit crying. I am packing up all my little girls clothes, blankets, beds and baskets and it's killing me. Thought I would try to get through the process before going back to work. I believe companies need to add the loss of a family pet to their bereavement benefits. So glad i work for myself and can take time off when I need it as I need the day off today.
Attached image(s)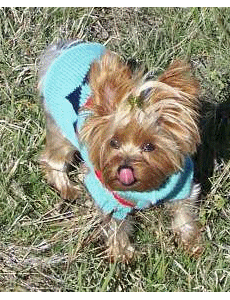 Last Visitors For the Love ...

7 May 2008 - 13:53
Friends lynda
24 posts

29th January 2007 - 03:25 AM