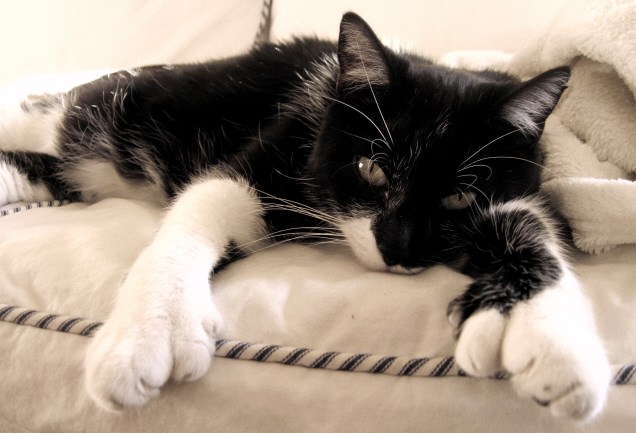 My furry friend was born on my front lawn in 1996. His mom was dumped at the school next to me, and had no choice of where to give birth. I found homes for the family, but could not find a home for the "runt". So he became mine.
He was the smallest, but the smartest of the bunch. He always attacked every toy I gave to the kitties, even pushing out the bigger ones. He figured out how I opened the screen door to let them in and out: I found him dangling from the latch but unable to manipulate it. His large feet caught everything that moved: mice, rats, dragnflies, lizards, but not hummingbirds!
My husband did not really think too much of cats when I met him in 1998. Somehow Felix learned how to get my husband to give him snacks, let him out, play with him and scratch him in the "right spot". When I thought that Felix might like Jim better than me, he would sleep at my feet every night. We talked to him and he talked back. He was my friend who did not speak English, but could make his wants known. He owned the house, and we made the payments.
Felix had diabetes, and an enlarged heart, both diagnosed within the last year. He let me give him shots, and I hid his heart meds in Pouce catnip-flavored snacks. He never complained when I took him to the vet, and always purred when we came home. Felix had his front leg amputated (in early November) because of a blood clot, and he was recovering very fast.
We had little footstools and pillows for him to use while he go his legs back. He slept between us purring as usual. When he started limping, he had a biopsy, which diagnosed a fractured hip and a very agressive cancer throughout his body. He was euthanized at our home within a day of the diagnosis. Except for the last 2 days, you would hardly know he was ill.
I am so thankful I had this cat for such a short time! Even as he lay dying, he struggled to purr and to move his little legs when I spoke to him. I told him as he was going that I loved him and would miss him. I know he understood me.