Profile
cat mom doesn't have a personal statement currently.
cat mom

Gender Not Set
No Information
Joined: 28-August 10
Last Seen: 6th December 2019 - 05:21 PM
Local Time: Feb 26 2020, 07:35 PM
40 posts (0 per day)

No Information

No Information
No Information

No Information

Send Message

Send an Email
* Profile views updated each hour

My Content
15 Oct 2010
Last weekend we got a new kitten from the shelter. He's about five months old and just a huge bundle of love and mischief wrapped in a fur coat! It's not so much that we adopted him, it's more like he chose us. When I saw him at the shelter, he practically lunged at the cage door to get my attention, and made all sorts of ruckus. I opened the cage door to give him a pet, and he LEAPED up onto my shoulder, head butting, licking me and purring like crazy - like we were old long-lost buddies. How can you say "no" to that?! We named him Boomer - well he kind of named himself. He has a little problem with flatulence! OMG, he can practically peel the paint off the walls. We are really hoping that it's just a kitten phase he's going through - adjusting to new food. I'll attach a picture of him at the end of this post.
I was so worried how our other two cats would react to him, especially Tank. Munch, as old as he is, just keeps out of his way but I was so afraid that Tank, who is very much an alpha kitty, would attack Boomer and hurt him. What a shock! The two of them are getting along fine and actually playing together! I am trying my best to divide my time between the three of them so Tank and Munch don't feel left out or displaced, but Boomer can make it difficult at times. I have never had a kitten that was as affectionate, cuddly and people oriented as he is. He's my little shadow.
But I find that Zilla is still shadowing me as well. Today marks seven weeks since I had to help him on his journey over the Bridge. I still miss Zilla so very, very much, I still find myself crying when I think of him. I keep dwelling on his last hours with us, replaying the sad scene over and over in my mind. Since his passing, I have written a memorial for him and also found that his passing has spurred me to put together a photo album of all the fur-kids that have shared and blessed my life over the years. Also, yesterday, I created a slide show tribute to Zilla and posted it on You Tube. You can watch it here if you like:
http://www.youtube.com/watch?v=jqkR5XRYq-M&fmt=18
I'm sorry, you'll have to cut and paste the link in your browser - I don't know how to embed the link here. I just wanted to create something to remember him by.
I hope you are all doing well. I've read a few of the posts here to try and catch up.
Margie / Ladywolf: congrats on your your new fur baby Bengal Leopold. What an handsome boy he is! I'm so happy that you have a new fur kid to be with you.
Clay / wchamilton: Congrats to you too for your darling Scout, she is absolutely adorable!
Dottie / AngleCareOne - I'm so sorry to hear of your precious Styx kitty being so sick. My prayers are with you both.
Moon Beam - I just think of you often. I hope you are doing well. You were such a help and comfort for me with your kind words and compassion.
To all the rest - I know you are all hurting and grieving over the loss or illness of your sweet loved ones. You will have good days, and bad days, and gradually the good days will start to outweigh the bad. I'm finding out that you never really get over the loss, but you develop ways to cope with it.
I recently read a quote by someone that said something like "Every cat that I have ever lost has taken a piece of my heart with them. Every new cat that I bring into my life has given me a piece of their heart. If I live long enough, my heart will stop being human and will become cat - what an honor!" I think this applies to whatever kind of companion animal you have, fur, feathers, fins, scales or hooves!
May God Bless you all, and my He soothe your aching hearts and souls and ease your pain.
All my Best,
Cat Mom
Attached image(s)
19 Sep 2010
I found this poem and thought I would share it with you.

I AM STILL HERE

Friend, please don't mourn for me
I'm still here, though you don't see
I'm right by your side each night and day
And within your heart I long to stay

My body is gone but I'm always near
I'm everything you feel, see or hear
My spirit is free, but I'll never depart
As long as you keep me alive in your heart

I'll never wander out of your sight
I'm the brightest star on a summer night
I'll never be beyond your reach
I'm the warm moist sand when you're at the beach

I'm the colorful leaves when fall comes around
And the pure white snow that blankets the ground
I'm the beautiful flowers of which you're so fond
The clear cool water in a quiet pond

I'm the first bright blossom you'll see in the spring
The first warm raindrop that April will bring
I'm the first ray of light when the sun starts to shine
And you'll see that the face in the moon is mine

When you start thinking there's no one to love you
You can talk to me through the Lord above you
I'll whisper my answer through the leaves on the trees
And you'll feel my presence in the soft summer breeze

I'm the hot salty tears that flow when you weep
And the beautiful dreams that come while you sleep
I'm the smile you see on a baby's face
Just look for me, friend, I'm everyplace.

Author Unknown
31 Aug 2010
Friday August 27, 2010
Tonight I had to say goodbye to my cherished furry friend, Catzilla. He was a bit over 12 years old. We rescued him from the local animal shelter when he was a kitten. My husband picked him out because he looked so "f***ed up", as he put it. He had ear mites so his ears drooped, and he had a bent tail that looked like it had been caught in a door, and a pitiful meow, but he was still cute!
He was such a good cat, so happy and loving, with a sweet face and gentle disposition. He gave us such love, joy and laughter. He was always ready to purr, even just having me walk into the room with him would get his motor going. In his later years, he loved sitting in my lap.
He's never had any health problems until three days ago on Tuesday. He started having trouble walking, he was very weak, stumbling and walking slowly and aimlessly around the house, and sometimes would just stop in a corner and stare at the wall. When he would lay down, he wouldn't sleep, just stare blankly. He showed no interest in food or water, which was SO not like him. He loved to eat ( he weighed 18 pounds!), and would even sit next to me when I would eat and gently tap me on the arm begging for a tidbit. I couldn't figure what the problem could be, but whatever it was, it hit him hard and fast.
I took him to the vet and they did an X ray, blood test and urine test, but everything came back with acceptable levels. He perked up for a bit that night, then Wednesday he was pretty much a zombie. He would just lay there and stare blankly at nothing again, and was not aware of anything around him. I sat up with him all night on Wednesday, and I didn't think he would make it through the night. Thursday morning, he was a little bit better, and he improved steadily through the day, and by evening he even ate, walked much better, and even jumped up in my lap for a nap. He was stretching, yawning and grooming himself, all the things a sick cat won't do. He was almost his old self, clear eyed and relaxed. I think now that he came back to us for this brief time to say goodbye to us.
Today, Friday, he declined rapidly and was a zombie cat again. We had a feeling it was bad, but by 9PM he started having really bad seizures and spasms. All the signs were pointing to possibly a stroke or some other neurological problem, most likely a brain tumor. I think at this point, everything that was "him" was already gone. His heart was beating, he was breathing, but "Zilla" was already gone. We knew that this was something that he would not recover from, knew we would have to put him to sleep, and called an emergency vet. The vets around here don't make house calls, so we had to drive him 30 minutes to the clinic. He hated riding in cars, but by this time he was barely conscious and not aware of his surroundings. The vet gave him a sedative to help calm his spasms, then had a hard time giving the euthanasia injection, his condition was so bad, his veins would collapse before she could administer the drug, but she was finally able to give him his release. This was one of the hardest things I have ever had to do, watch my sweet boy fade away. It hurts like hell, I could never imagine it could hurt so much, and I know that a part of me died with him tonight. I have a hole in my heart that will take a very long time to heal, but I also know that we did the right thing. I would rather suffer the pain of losing him and missing him instead of trying to keep him alive for selfish reasons and making him suffer. To give him the gift of peace was such a small repayment for all that he gave us.
Zilla and I will meet again on the other side of the Bridge, with all the other furry loved ones that I have lost over the years..
"A spark that burns so bright in our hearts shall never dim."
I miss you so much, my sweet little fur face Zilla. I will love you always. Sleep in peace.
Attached image(s)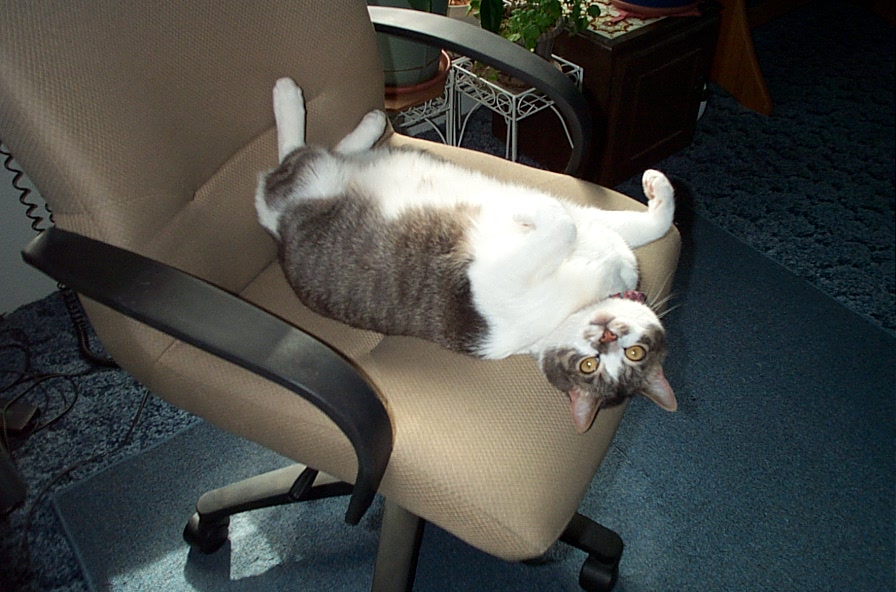 Friends
There are no friends to display.