Posted by: Ann H May 3 2005, 08:19 AM
My little Chili Bean has been gone for almost 6 months. She had her 10th Birthday Nov. 5th and she left this world Nov. 11, 2004. This precious little Chihuahua was such a joy to the entire family. She thought she was one of the biggest dogs that ever walked the face of the earth.

Chili Bean enjoyed life with every breath she took she lived to make the family happy. She thought that family and friends were made just to pet, love and hold her. She would not take no for an answer and clawed at you if you took to long picking her up.

She would take many naps throughout the day and she would wake up with a content look upon her face, I have shown this picture before but I want to show it again. That smile on her face says it all. Chili Bean was just so precious and we miss her so much.
Ann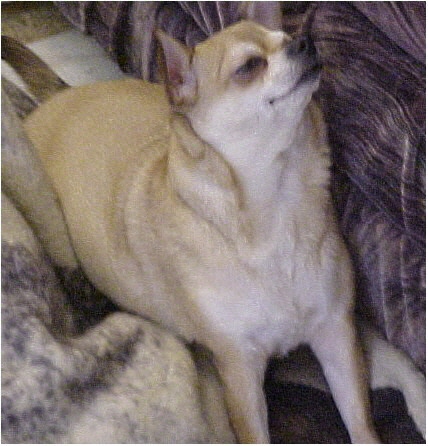 Posted by: Snickster May 3 2005, 08:26 AM
Ann, no wonder Chili touched my heart... she's a fellow Scorpio!



That's an adorable picture of her. She was absolutely created to be pet & loved, so she was correct in her demands!



Hugs,

Pat

Posted by: Norah'sMom May 3 2005, 11:47 AM
I'm a Scorpio too! Chili Bean was definitely a very special girl -you can tell by her expressions in the pictures you've posted. Just like Chili Bean, I think Allie's goal in life was to make us happy. The one thing I'll remember the most about her was how happy she made everyone, because she just loved every other living creature that was ever around her, and if some other dog was trying to be top dog she couldn't have cared less. She was just happy, go lucky Alice, enjoying life to the fullest without a care in the world.

Bless dear Chili Bean and Snookie and all the others!

Posted by: Pamela May 3 2005, 12:51 PM
No one could even talk to me sitting across the room, My Moose was so jealous, and he was a whinner (in fact there is a bird outside my window right now.. sounds just like him) he did his best to talk but couldn't form the words,,,but he was speaking to me and I understood what he was saying LOL
One night I went in to go to bed and I said move over you Moose...as I pulled the blanket and he growled at me...so I spanked him and gave him a scolding. After that it was a game to him I would say okay time for bed, he would run in and jump on the bed, I would move the blanket he would give me a little growl and a look tht told me he was just teasing me,,,then he would jump off. So smart he was. And playing frisbee!! I got tried of fighting him for it on the return...so I took two frisbee's tossed the one and when the return came I had another ready to go so he dropped it and was ready to go again, he would even move it closer if I told him to, this worked great for excersising him as I started to put on weight from lack of excersise...

my intention with that was to keep his hind quarters strong for later life...o well...loved that dog!!!

Pamela

Posted by: Ann H May 6 2005, 06:08 PM
As the 6 month mark is approaching my family and I have talked about so many wonderful memories of our precious Chili Bean. We do have times when we cry for her but the tears come further in between now. We were able to laugh and I mean really laugh long and hard at some of the things she did throughout her 10 years of joy she brought to us. Chili Bean was so precious and brought joy to all the lives she touched, especially my life. She was more than just a fur grand baby she was like my own. I will always keep her memories close to my heart.
Love, Ann

We will always miss you Chili Bean and we thank you for all the love and laughter you gave to us over the years. You run and play and have fun with Snookie and all the other fur babies. The whole family sends you and Snookie Cookie hugs and kisses while we wait our turn to be with you both. Chili Bean you will never be forgotten, your memories and love will always carry us through everything we may face in life. You and your love just like Snookie's was and always will be so precious in our lives. Sweet baby we have all been enriched by knowing, loving, and having been loved by you.
Loving You Forever Your Family